ESUT takes bold steps to embrace Core Curriculum and Minimum Academic Standards (CCMAS).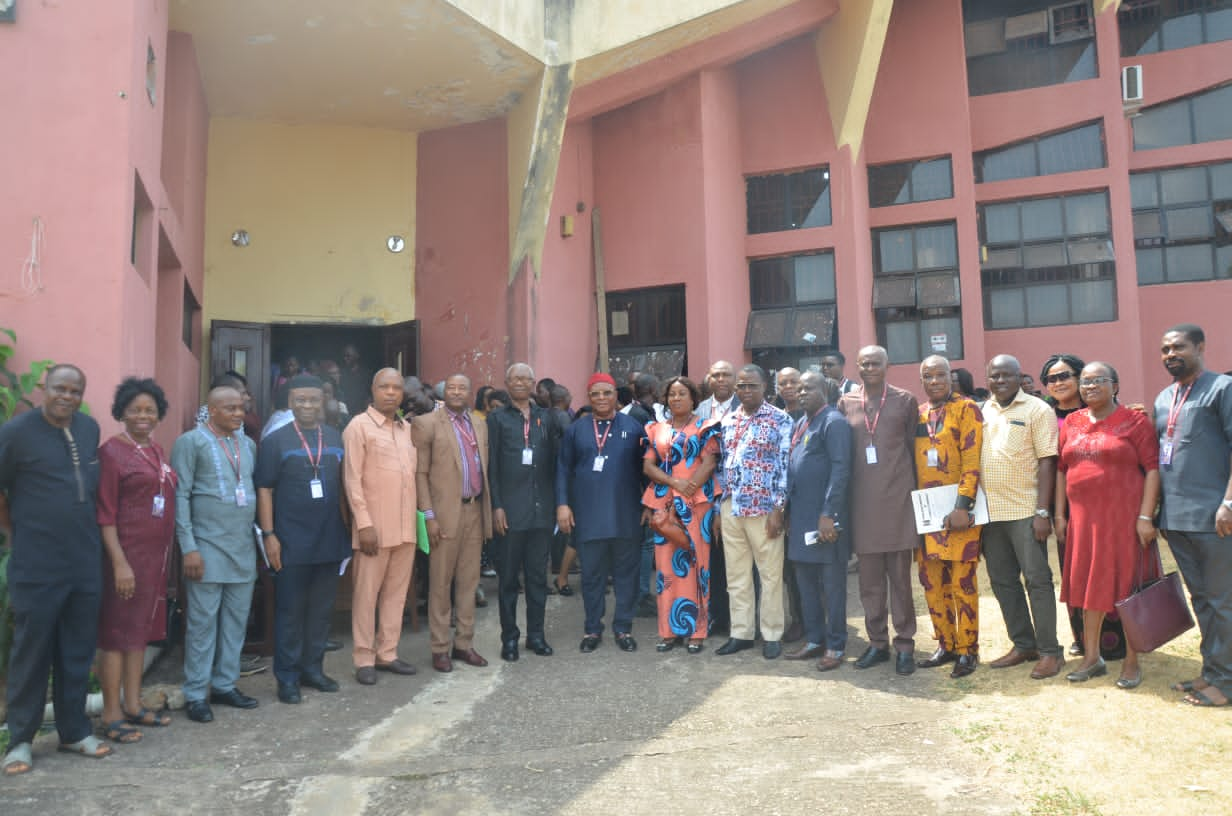 The Enugu State University of Science and Technology, ESUT, on Thursday, began the processes of adoption of the Core Curriculum and Minimum Academic Standards, CCMAS, in the courses offered in the Institution.
The Vice Chancellor of the University, Prof Aloysius-Michaels Okolie, while declaring the sensitization workshop organised for the academic staff and Faculty Officers of the Institution on CCMAS open at the Julius Onah Auditorium, Agbani, said that CCMAS is geared towards indigenizing aspects of courses being taught in the universities in order to address local needs.
He enjoined the personnel of the University to participate and help in the expansion of the horizon of knowledge base in the Institution by investigating phenomena in their environments to address myraids of issues challenging human existence.
In his presentation, the Director of Academic Planning, ESUT, Prof. Chike Anibeze, explained that the CCMAS was born out of the blueprint on the Rapid  Revitalisation of University Education in Nigeria by Abubakar Rasheed, which is geared towards reviewing the curriculum of the Nigerian Universities.
He further explained that the review was targeted at placing the curriculum of Nigerian Universities to be rated among the best in Africa in terms of its relevance to producing nationally and regionally-relevant graduates who are high level human resources for delivering on Africa's Vision 2063, and addressing global SDGs.
To achieve this, Prof Anibeze, explained that the National Universities Commission, NUC, carried out a survey of Nigerian scholars in "Total Numbers" of centrally-determined course units in the benchmark minimum academic standards.
He equally explained that CCMAS was structured to have 70% Universal and 30% indigenous components of a programme curriculum, adding that it also has 10 unique features which are carefully articulated in the benchmark document.
In her remarks, the Chairman of the Senate Committee on CCMAS, Prof Ngozika Mbajiorgu, enjoined all the academia in the Institution to remain committed to the project, adding that the benefits would be bountiful.
Other members of the Senate Committee on CCMAS include: Prof. Emma Oguh, Deans of Faculties, and the five ESUT NUC Accredited Reviewers.
---